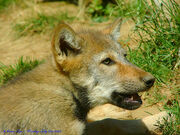 Rusty is a Water Bender that lives at the bending tower. His parents live at the bending tower too, they are Diamond and River. Rusty also has a brother name Dust. Rusty has a crush on Crystal and Slice.
Rusty was born at the bending tower a long with his brother Dusty
In the future his mate will be Crystal.
Did You Know?
Edit
The Author Misitu Wolven (aka. Greatshot) made Rusty and Dust
They have there own page called "Ask Rusty and Dust"